Some people call them Holiday Cards, which is fine, but I call them Christmas Cards. A few times in my life, I have had to call them Holiday Cards. Why you ask?? Well, truth be told, I got really behind and had to send the old, "Hope you had a great Christmas, Happy New Year!", edition. Not because social etiquette dictated the choice, procrastination did!
This year, I am so excited about Cards. I recently made a Shutterfly book about Halloween and it came out great. I did have a couple of mistakes, but overall I would call it a success:
Click here to view this photo book larger
Also, it keeps the pictures from living in my camera or in a folder on my pc. They are alive! I love it!!
So, back to Christmas Cards..... I love getting them, comparing designs, looking back to last year's and how much everyone has changed, and most of all knowing that someone took the time to address that card just to us at such a busy time. I know, sappy right? There are people I don't hear from all year, but I get that card. I can't help it, I am a sucker for a canceled stamp. Call me old fashioned, but I will take a real card over an e-card any day. I know, I know, the environment prefers e-cards. I love the Earth too. Heck, I recycle everything I can, but I still love my cards! I don't throw them away, so I am doing my part!!!
This year I am doing a Shutterfly card. I did Thanksgiving ones for the family: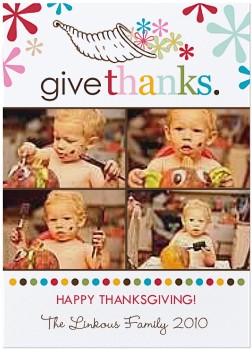 Cool Cornucopia Fall Greeting
I know he is mine, but this is cute right?
I also have made three calendars for Christmas presents. I can't talk about them here. Who knows who is watching and I don't want to spoil any surprises! You can make your own here,
http://share.shutterfly.com/share/received/welcome.sfly?fid=990c1d46b8578dc6&sid=0Act2Lhm4cM2LvA
,and let me give you a little tip: You can put a picture on every single date/day if you want to. There is no limit and what a way to use up a bunch of pictures. You could even pick a day of the week and put a photo on, for example, every Friday!
These are my favorite cards:
This one!
This one!
This one!
and this one
Keep you eye on the mailbox!! Let me know what you think!
Shutterfly wants to give you a chance to enjoy their cards too!
Check it out!!